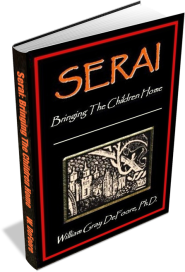 ENDORSEMENTS OF DR. DEFOORE'S WRITING:

Thomas Moore, author of Care of the Soul, says: "Bill DeFoore's originality, style, good heart and broad intelligence makes his a voice worth listening to in a noisy age. If anyone can give us reliable guidance toward deeper emotion, Bill can, and he can do it with imagination and genuine compassion."
Steve Wilemon, an avid reader says: "I've read Serai through twice now and started on a third time. Each time becomes more personally revealing and inspiring. The childlikeness of Serai is trustworthy and vibrant with colorful detail. It touches a lot of soul, real quick!"
Margie Mahoney, BS, RDH, Life Coach, Guiding Mindful Change Yoga Instructor Himalayan Institute says: "Serai appeared at a point in my life where fear threatened to immobilize me. The courage of the main characters on their journeys to the underworld helped me to navigate my own inner journey, and to welcome back and heal parts of myself I had never known existed."
Carolyn Craft, Unity Minister and Radio Show Host for Lime Radio says: "Through Dr. Bill DeFoore's engaging work, our world is relieved of much of its despair and pain. His writing illuminates the powerful force of our emotions and how to capture their potent energy for good, for healing, and for creating an abundantly successful life."

Connie Tyne, Executive Director, Cooper Wellness Program, Cooper Aerobics Center says: "Dr. Bill DeFoore gives you a better understanding of yourself and the people around you, as he shares his enormous depth and insight into human nature. I'd like to ask everyone to read his books."