Goodfinding Video Archives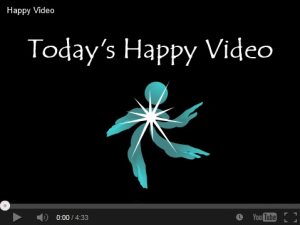 Scroll down or use page search [Control F on PC, and Command F on Mac] to find your favorite video from Happy Videos.
One human family - we're all in this together
The beauty of opening up - time lapse flowers
Soldiers' homecoming celebrations
Strangers share a cup of success
Self esteem boost from a mirror
Getting stuck in the negative and how to get unstuck
Great speech from a great coach
Flowers and thank yous for moms
The street store for dignified shopping for the homeless
What do people live for - the Dream Rangers
99 year old woman makes a dress a day for children
High school football team celebrate their disabled friend
A very quiet restaurant - find out why
Soccer team finds success on a floating field
Youve never seen patty-cake like this
Who has helped you achieve success
Kids who see a brighter future
It's not what happens to you, it's what you do with it
The power of words - a beautiful love story
Beautiful time-lapse of Earth from space station
Classical music like you've never seen it before
Mr. Wright - the most amazing teacher
College student is founder of Food Recovery Network
How positive emotions benefit the brain
Why lunch ladies are true heroes
Retirement gift for a wonderful first grade teacher
Misty Copeland - I will what I want
Deaf percussionn group - Deaf, Loud and Proud
It's a good time to bring a child into the world
Win from within - the story of Ben Jackson
Subway star rises to new heights
The Pact - a life changing promise of friendship
Life lessons learned in Little League
Subway spa makes underground heat bearable
Surprise by Lion King cast on subway
Happy cover by Walk Off The Earth
How playing an instrument helps your brain
The people are the business at Culver's
Japy Day - how to make the world a better place
Music, connection and generous hearts
Doing it like a girl is a good thing
Bank's automatic thank you machine
The power and brilliance of the quiet people
Dozer the marathon running dog
Nicholas and the "Gotta Have Sole" foundation
You don't have to try to be beautiful
Cello playing brother who learned from their grandfather
The beautiful gift of human happiness
10 things happy people never do again
A soup kitchen that serves dignity
Jessica's daily affirmation - I can do anything good
Tim's Place - serving breakfast, lunch and hugs
We have so much to be grateful for - prosperity
Time lapse planetary panoramas
Dancing around the world backwards
Beautiful animated short film "Duet"
How to love, luxuriate and play - polar bears
Priceless reactions to fireworks
OK Go - The Writing's On The Wall
Homeless man is rewarded for his integrity
Older Ladies by Donnalou Stevens
Get into a flow state by exercising outdoors
Changing the world through kindness - dance
The happy dance at Urban Dance Camp
Paying the girl who hit my car
Beauty on the edge of discomfort
6 steps to becoming the next great musical duo
Joyful dancing around the world
High school surprises janitor with a gift
Inspiring dads - stories about fathers
3 dads and their special ladies
The happiness test perfect score
Father daughter lip sync from Frozen
Jim Carrey on inspiration and following your dream
What do strangers think of you?
Random acts of kindness - free or cheap
4 things you must give up to move on
Open your heart to gratitude and appreciation
From bump to buzz - ready for something new
Every moment an opportunity to help someone
"I'm Yours" by adorable young uke player
How to overcome the fear of being alones
Don't worry by happy music video
What a wonderful world with David Attenborough
Makind people smile - college homework of kindness
Shout out to someone who changed your life
Celebrating the power of love with the Mowgli's
Elephants playing piano and dancing
Animeals - feeding the pets of homebound people
Homecoming queen gives her crown to bullied girl
Beautiful time lapse adventure video
Pittsburgh detective adopts two boys in need
Hilarious high fives bring great smiles
Waltz on the walls of city hall
Making connections with others through difference and sameness
True colors of compassion and inclusion
One second can change everything
Collection of pranks gone good
Elderly and youth speaking exchange connection
5th grade boys' synchronized swimming routine
Weaving connections around the world
Friends get a bionic hand for 19 year old
104 hobbies - the hobby hoarder
A thank you to all of the teachers
The meaning of life by a 6 year old
Young adults say I love you to parents for the first time
Unknown person pays it forward weekly at restaurant
How to celebrate your 100th birthday
Cash mob for Avi -- small town shows support for store owner
96 year old yoga instructor is truly inspiring
Woman copes with loss by running in 50 states
Find out how dancing makes city streets safer
The power of one simple word - love
Columnist seeks happiness and finds good people everywhere
Stay calm amid the noise and haste
Retired teacher demonstrates love with 520,000 sandwiches
Ice cream truck helps you live your dream
"Tim's Place" doing good in all directions
Couple starts their marriage with uproarious laughter
Watch these waiters when they see the size of their tips
Morning train commute turns into a dance party
Nonprofit paints shoes for kids as random acts of kindness
Napkin notes by Garth Callaghan
Artist Willie Baronet spreads love while collecting homeless signs
Best toddler costume by Glowy Zoey
Community and veterans bike together on road to recovery
Lots of laughter with Kevin Spacey doing hilarious impressions
The world needs more love letters
"I Won't Let You Down" With OK Go!
Be comfortable in your own skin
NY sign maker gives back to his mentor in a beautiful way
24 little things to be grateful for in life
The lunch money project - doing good is contagious
Children are always listening - girls and their mothers
For the love of music - absolutely stunning
Inspiration around every corner
Random act of kindness from a police officer to a deserving teen
New York City's biggest pizza party to feed the homeless
Cross country runner carries competitor across the finish line
Homeless Korean boy steals the talent show
Why is this millionaire business man picking up trash?
Saving Draumur - a beautiful story of recovery
They expected therapy and they got a delightful surprise
The Joy Riders - Fearless free falling femailes
Scientific evidence that your mind can heal your body
Prank it forward's amazing gift to a very deserving woman
Big surprise during a fake fire drill
Grassroots ministry builds homes for war veterans
All about that baste -- Thanksgiving music from talented family
The man in the queue -- a simple act of kindness
World's friendliest airline surprises passengers with love notes
Zack's Shack -- 11 year old sells lemonade to by wheelchairs
Twin sisters separated at birth reunited as adults
The kindness of strangers -- love in action
You were born to learn -- learning is life
People on the edge and having a blast
One stitch closer -- Veronika empowers other women
Inspiring film promotes paying it forward
Matt dances in 42 countries -- absolutely wonderful
The Big Apple Circus -- a circus for everyone
Women taking college poll get a big surprise
The power of focusing on positives in relationships
The youngest and cutest UPS driver
Sometimes it really is about the nail
Gizmo the therapy dog helps kids to read
Exquisitely beautiful nature and adventure film
Fabulous interactive piano in Chicago's Union Station
Singing shopper's song is contagious
Awe inspiring video - "I Am Water"
Secret Santa sting operation brings tears of joy
Kid President's 20 thinks you should say more often
Acceptance workshop helps kids connect and cross barriers
What the holidays would look like if kids were in charge
Fabulous musical welcome home for travelers
Hilarious holiday feast with 13 dogs and one cat
Traveling choir brings hope through holiday songs
Policemen in Lowell Michigan spreading Christmas cheer
The brave gesture that sparked a Christmas Eve truce 100 years ago
A brave and touching experiment with trust
The power of a sincere compliment
Never leave the playground with Stephen Jepson
The gift of a dog -- discover battle buddies
Why you should be more optimistic in the new year
Five new year's resolutions to make every year
Awesome people doing amazing things
Prison inmates turn their lives around because of "Grandma"
Improv chorus where everybody's a singer
Teen makes special olympics kids feel like super stars
A little sunsine in your life from Emi Sunshine
Childsight New York brings life into focus for kids with vision problems
Talk about having fun with your workout!
Fabulous A Capella duet performs beautiful Disney medley
Parents buy car for beloved school crossing guard
A letter to your future self - a truly inspired teacher
Magnificent veiws from the International Space Station
Horse therapy improves quality of life for disabled
"Back on my feet" program helps folks through running
Brilliant young man creates prosthetics and gives away his design
Principal buys shoes for here entire school
Discover graphene - the future of your technical devices
Beautiful film - The Coast, on the perspective that nature provides
Opening doors and hearts - the power of a kind gesture
Inspiratiional special olympics athlete Ian Shepherd
Bobby McFerrin demonstrates universal knowledge of the pentatonic scale
A dad turns his entire house into a giant ball pit
Teacher provides free clothing bank for students
Beautiful words of wisdom from elders around the world
Fun loving teacher does the uptown funk dance with his entire school
Popup repair shop brings new life to used items
Amazing 76 year old opportunist shows us how to live life to the fullest
Smiling can actually make you happier
Acoustic mashup of two Taylor Swift Songs is beautiful
Bring me sunshine, bring me love
Storm Troopers get doctors and nurses to work in snowstorm
Rising Tide car wash hires autistic individuals and rises to success
School custodian becomes wonserful counselor to students
"Girl Up" shows how one girl can make a big difference
Pay for your burgers with some lovin'
Twister Sister balloon artist turns passion into profession
Boston University students are hula hooping to happiness
If I can do this, what else can I do?
Dozens of couples celebrating love
Michael Jr. likes to give laughter
The story of Jed the dancing guy
No one eats alone - the power of inclusion
See the real me - Jaimie loves science & science fiction
The giving keys - an inspiring story
The story of Emma - see the real me
Sean Richardson on mental toughness and delayed gratification
The Tonight Dough - fun with Jimmy Fallon
The World Is As Big Or As Small As You Make It
Valuable life lessons from the "Can-Do-Duck"
Disabled teens travel to the UK to learn to ski
This team turns a random street into a romantic dance date
Sarah from India - see the real me
Disney characters surprise shoppers
Just one more day - from the mouths of children